New York is not the capital of the United States, nor is it the largest or most populous state. However, New York, along with California, is the most well-known state in the United States. If you spend a couple of days in New York and use the subway, you might meet people from every country in the globe because the city is so varied! If you visit the United States, you must go to New York; it has something for everyone.
New York is one of the most sought-after destinations on the planet. If you ask me to name ten cities in the world from memory, New York will undoubtedly be one of them. I'm very sure I'm not the only one with these characteristics. New York is a fascinating megacity and one of the world's most cosmopolitan cities. Although you can spend several weeks or months touring the city, many people only have a limited amount of time. For them, I've put together this ultimate travel guide to spending a day in New York. If you want to take it slow, you can easily follow this guide to spend two days in New York as well!
Walk in SoHo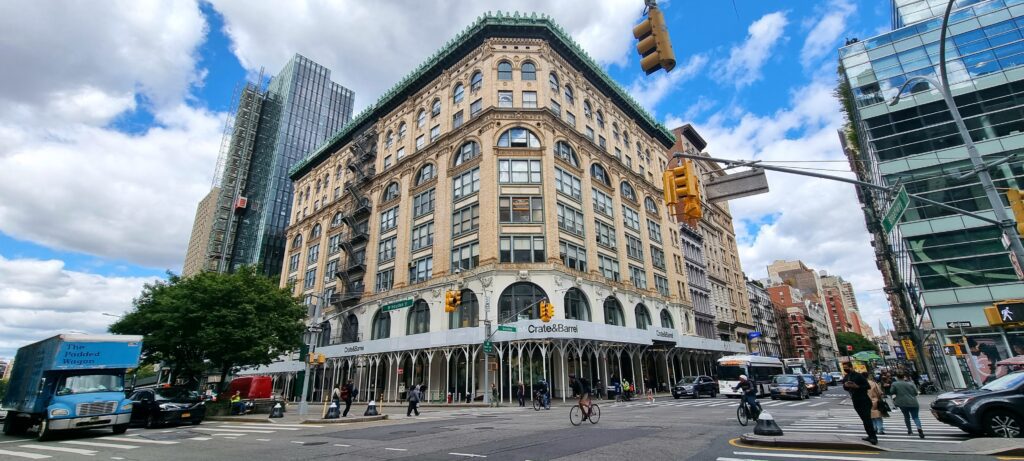 Your trip to New York will begin in SoHo. Walking down SoHo's street gave me a great feeling; you have to stroll there to feel it. SoHo is a neighbourhood in lower Manhattan located south of Houston Street. It has distinct architecture consisting of cast iron buildings. They were previously warehouses but have since been converted into residential buildings, restaurants, art galleries, and other purposes. Its cobblestone streets, particularly Mercer and Greene, will transport you back in time via a time machine. This is the spot to go if you want to do some high-end shopping. Not to mention some of the top eateries in the neighbourhood. In a nutshell, architecture, shopping, cuisine, arts, and a bustling atmosphere have made SoHo a must-see destination for tourists visiting New York.
Rockefeller Park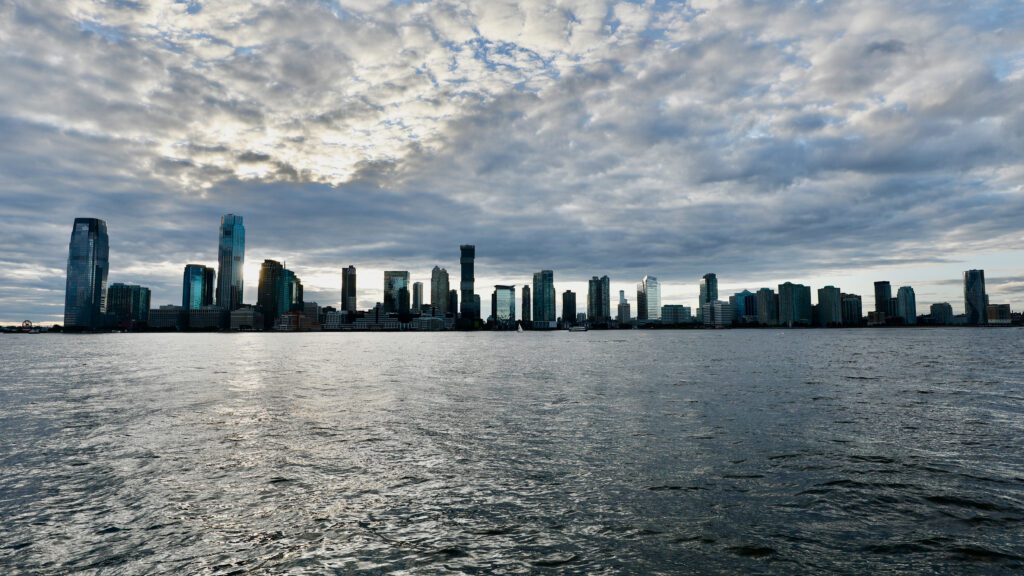 The Rockefeller Park is located next to the Battery Park. From here, one can see the entire metropolis of New Jersey. I had a great time spending time there! The dense clouds are constantly changing their mood and creating new vibes on the river. The cityscape on top of it was a divine experience in and of itself.
9/11 Memorial & Museum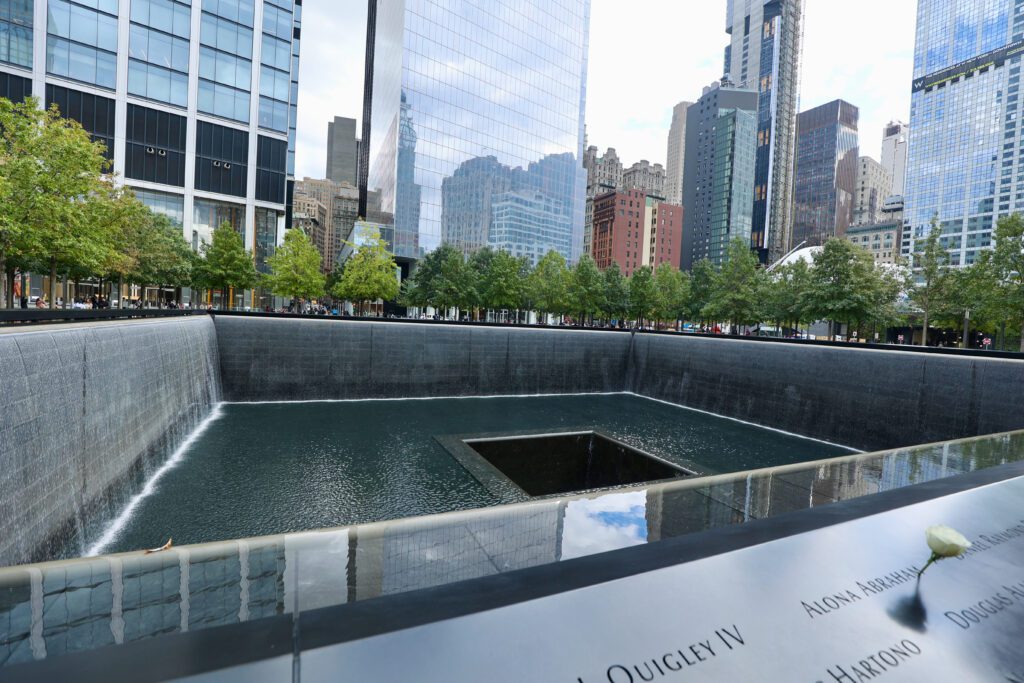 The twin tower attacks on September 11, 2001 shook the world. Terrorists hijacked planes and slammed them into the World Trade Center's Twin Towers, which were two of the world's five tallest buildings at the time. The 9/11 memorial and museum is dedicated to the memory of those who died on September 11, 2001. The memorial comprises of two reflecting pools, each roughly the size of the Twin Towers' original footprints. A grove of 400 swamp white oak trees surrounds the pools. The names of the 2,977 persons killed in the attacks are etched onto the pools' walls. People can be seen laying flowers on those names.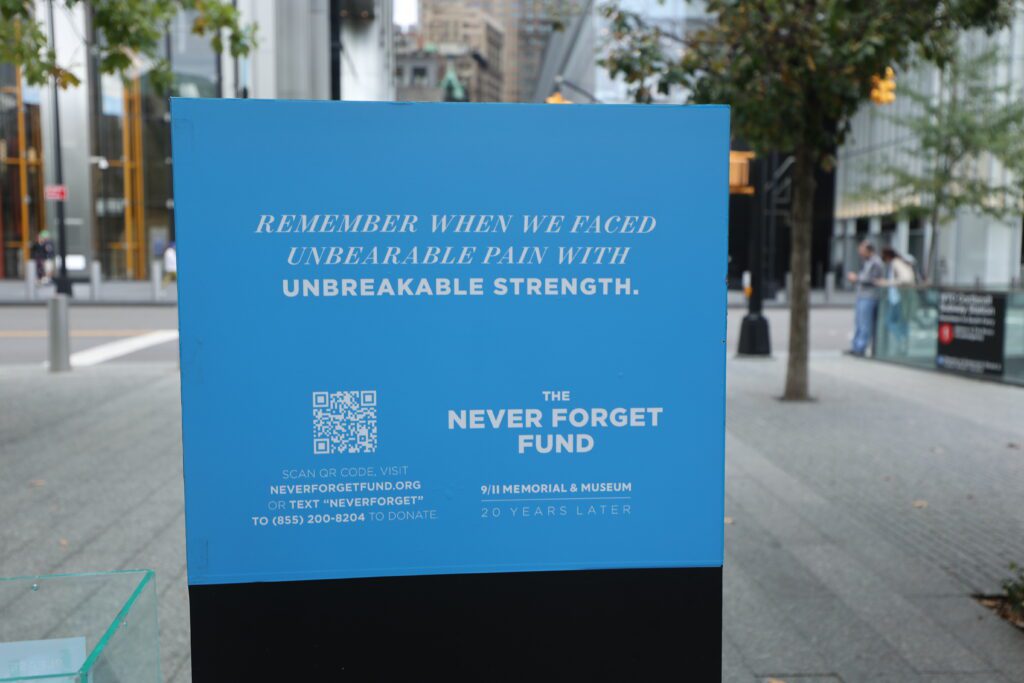 Spending some time there will transport you back in time and give you the belief that, at the end of the day, mankind will resist all forms of terrorism. The museum tells the story of the attacks through artefacts, photographs and provide you with a timeline of the attack. You can buy ticket of 9/11 memorial online to avoid queue.
World Trade Center Transportation Hub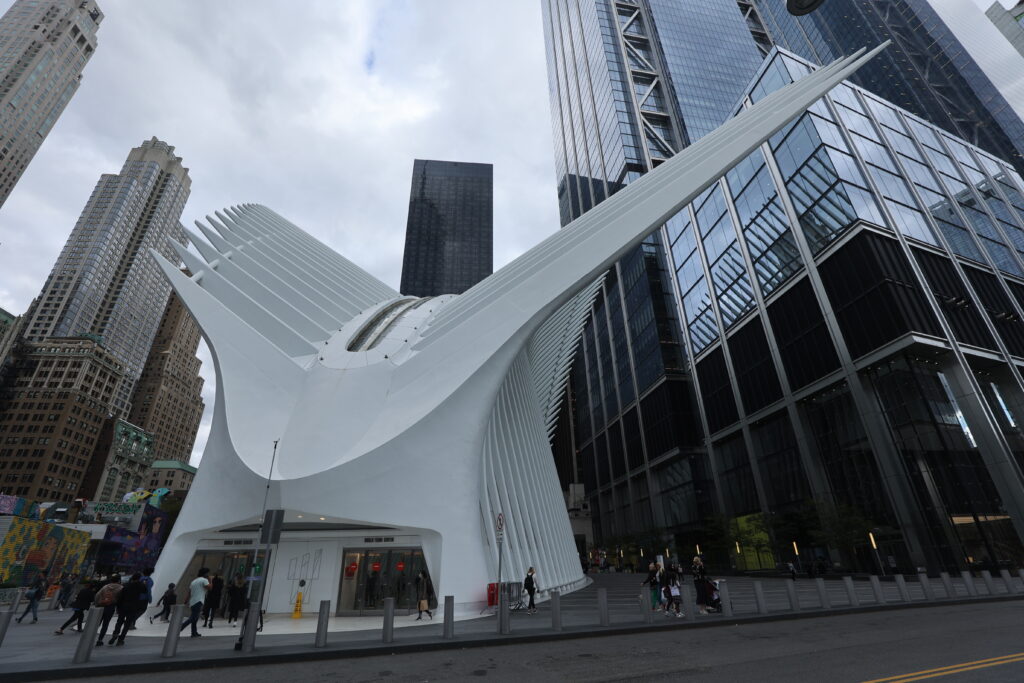 The World Trade Centre Transportation Hub, popularly known as the Oculus, is located right next to the 9/11 Memorial & Museum. This is a well-known transportation hub as well as an architectural icon. Oculus is a large structure that resembles bird wings. The building is intended to inspire a sense of uplift and hope, paying respect to the spirit of resilience that arose in the aftermath of the September 11, 2001, terrorist attacks. It is near the 9/11 Memorial and serves as an entrance to the memorial. If you don't pass by this station, you should go inside; I guarantee you won't be disappointed.
XO World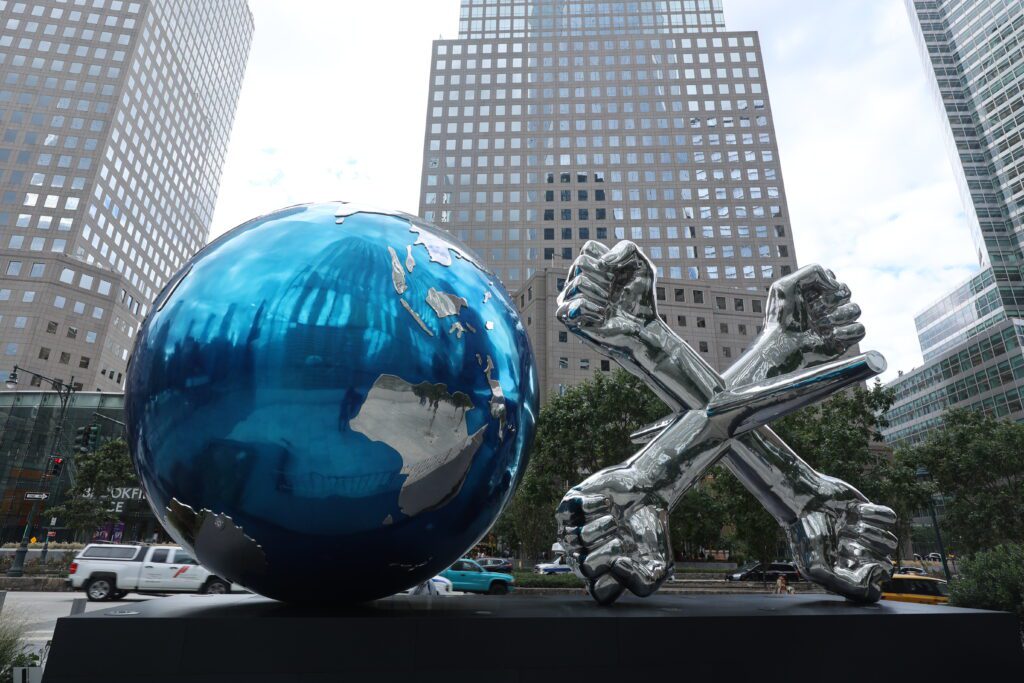 XO World is a public project in which 11 artworks were installed across New York. My favorite is the one above, which features a big glob beside two massive hands crossing each other. This is located outside of the World Trade Center.
Wall Street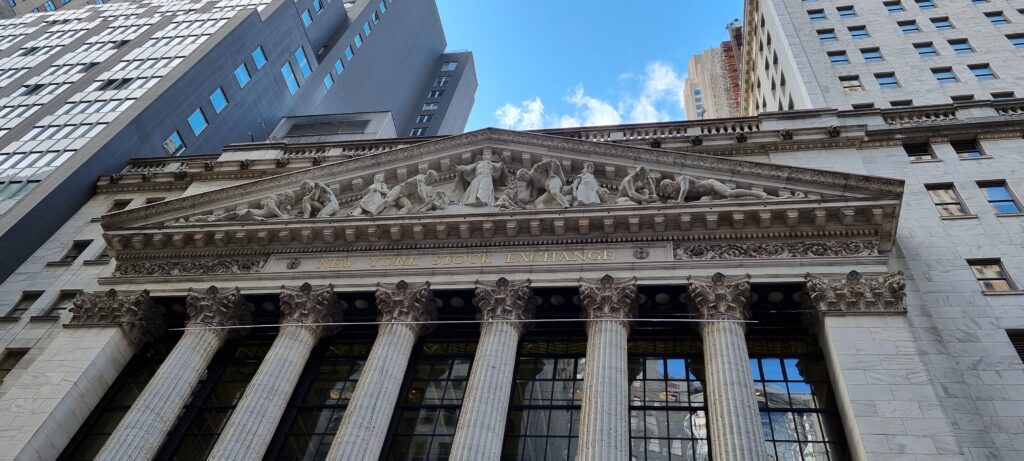 Who doesn't enjoy money? And the first thing that springs to me when I hear about getting money is Wall Street! Wall Street has a tremendous impact on the global financial system. The New York Stock Exchange (NYSE), the world's largest stock exchange, is located here. Furthermore, the Federal Reserve Bank of New York is based here, and it controls the interest rate, which determines how much your cash will be worth tomorrow.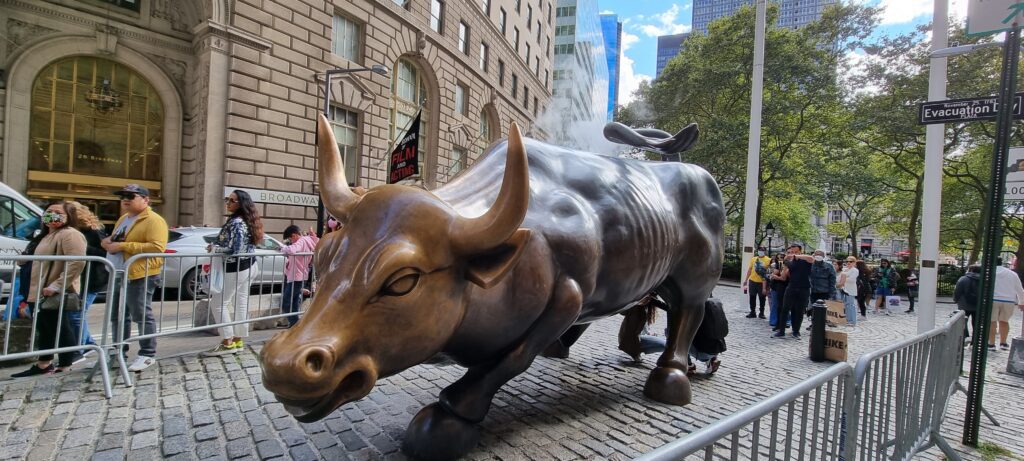 "Charging Bull" or "The Wall Street Bull" is located just a few blocks from the New York Stock Exchange. This bronze sculpture represents the market's (the American people's) power and hope. When the stock market rises, we refer to it as bullish, and everyone rejoices! If you want to snap a photo in front of the sculpture, you must wait in line. You will notice a young girl facing the charging bull named "Fearless girl" near the charging bull – it represents women empowerment in the market.
The Battery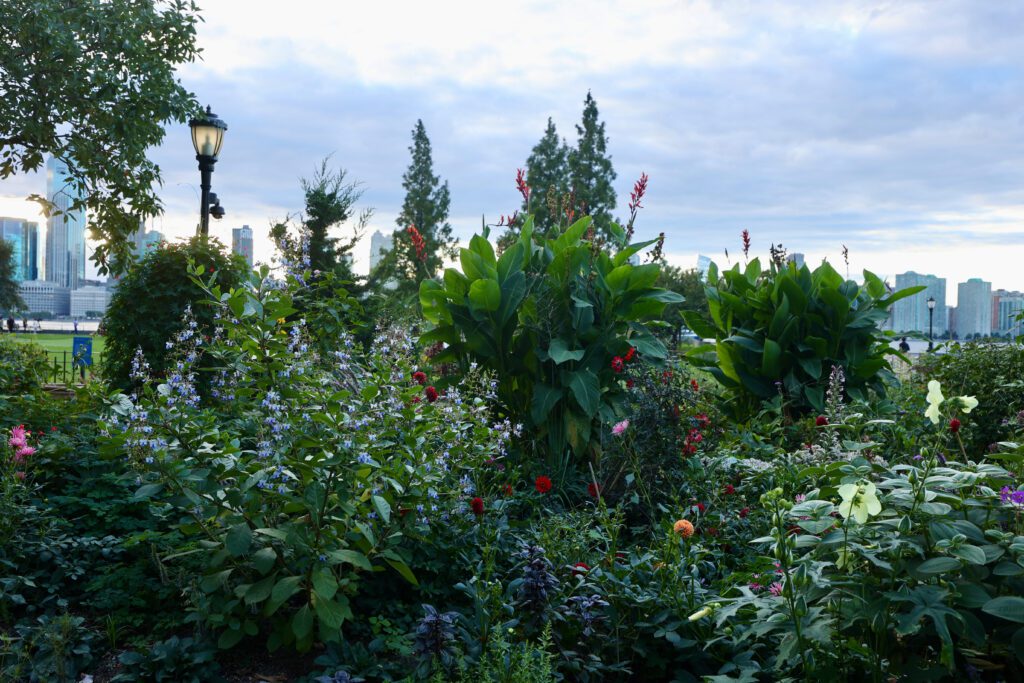 The Battery (formerly known as the Battery Park City) is a planned community located in Lower Manhattan, New York City. Situated on the southwestern tip of Manhattan, it occupies approximately 92 acres of land. It has expansive green spaces to enjoy your time.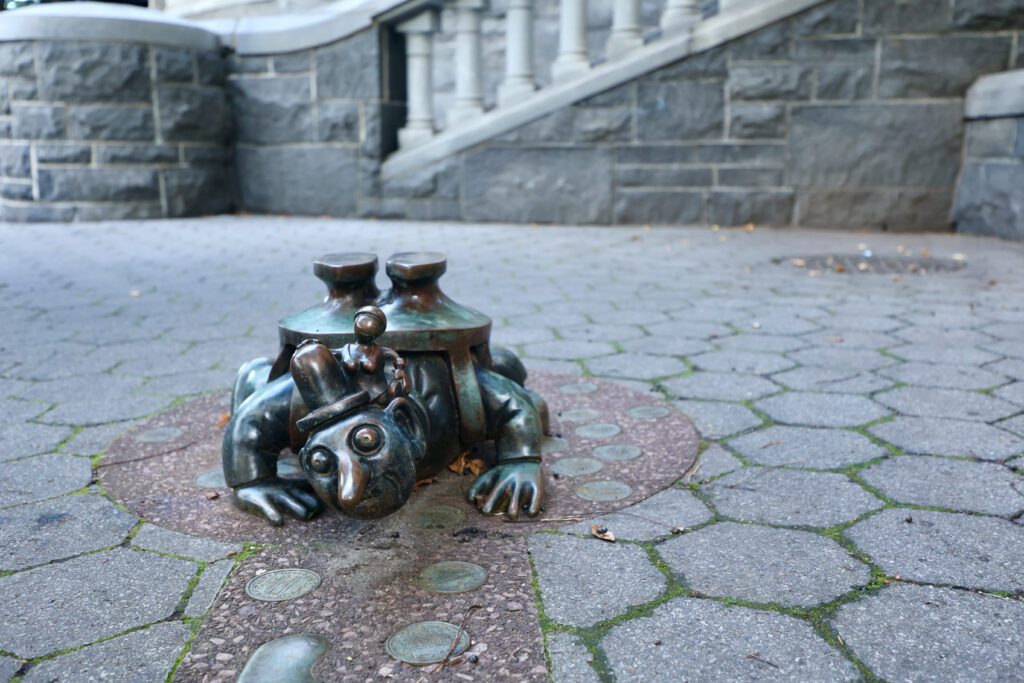 What attracted me most in this park is some of the weird sculptures. Some of them was miniscule and some of them are bigger in stature.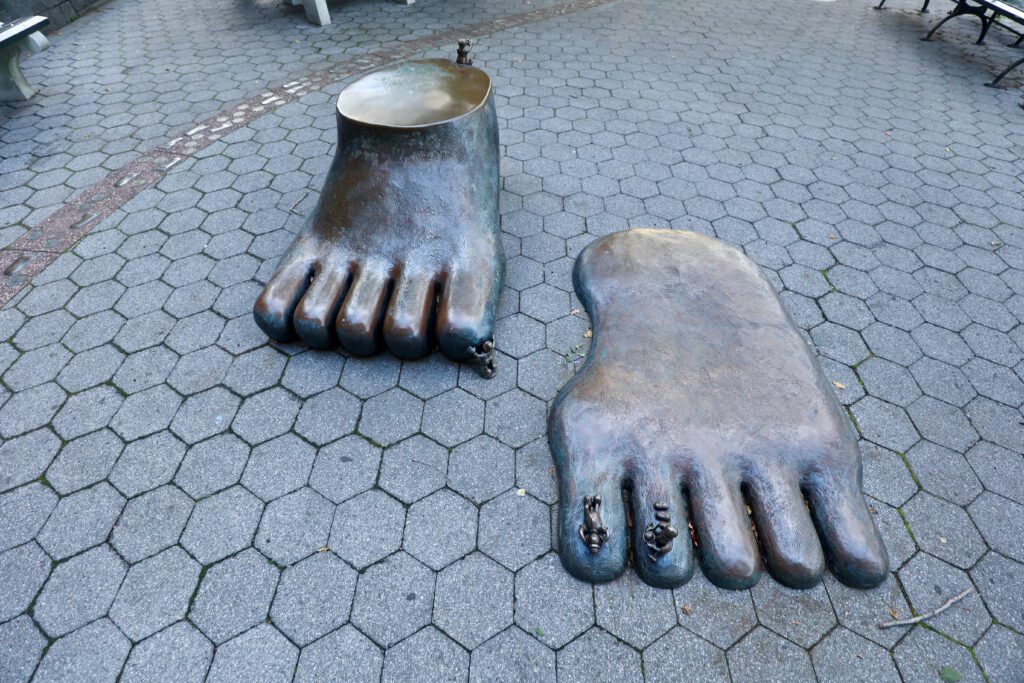 Battery park city will also provide you an opportunity to enjoy waterfront views, gardens, walking paths, and recreational facilities.
Statue of Liberty
The Statues of Liberty, a gift from the French people in 1886, are undoubtedly the most recognisable symbols of the United States. The statue holds a torch in one hand and a book with the date of the US Declaration of Independence in the other. A broken chain and shackle on her feet represent the end of slavery in the United States. If you don't have a strong desire to see the Statue of Liberty, you can leave it off of your one-day itinerary in New York. It is located on Ellis Island and will take up a significant portion of your day if you visit. However, you can see the Statue of Liberty from Battery Park in Manhattan. I took the photo above in front of East Coast Memorial of the Battery.
I suggest you to book this 60 minutes trip which will take you near to the statue of liberty from where you can take good photos.
Brooklyn Bridge Park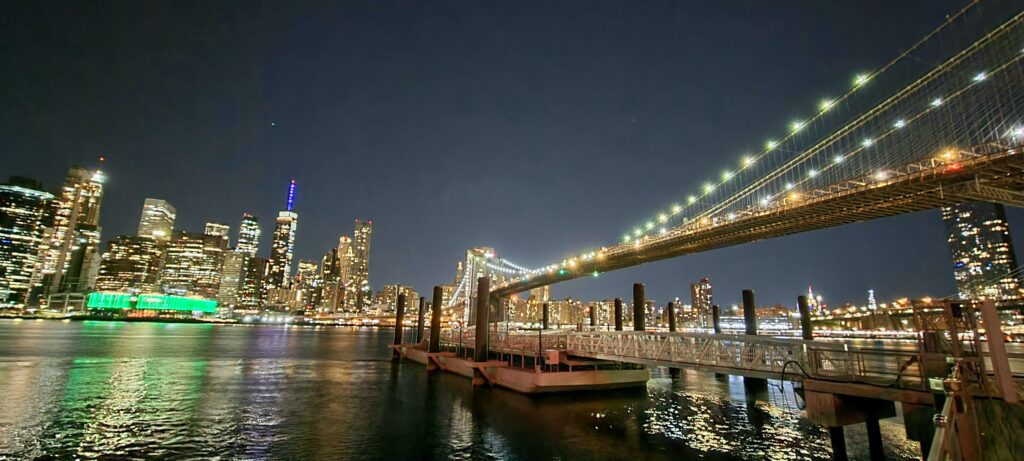 If you've ever seen a movie set in New York, you've probably seen the Brooklyn Bridge. The Brooklyn Bridge is widely regarded as New York's most iconic structure. This well-known bridge connects Manhattan to Brooklyn. The Brooklyn Bridge is best seen at night, when it glitters. Brooklyn Bridge Park provides an excellent vista. The Brooklyn bridge park offers a stunning views of the Manhattan skyline and the East River as well.
Hudson River Park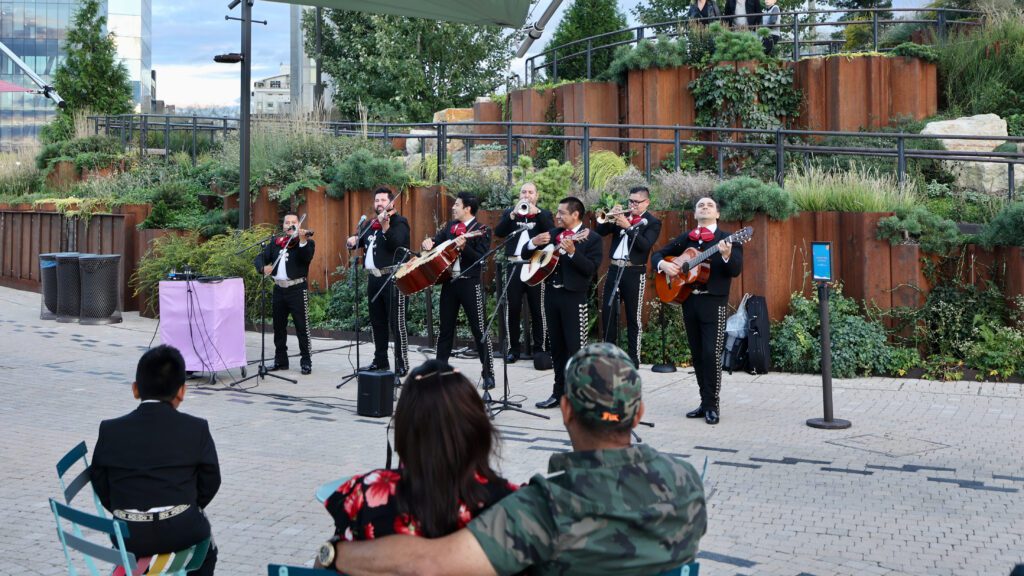 Throughout the year, Hudson River Park conducts a variety of events and programming. Concerts, outdoor movie screenings, exercise courses, educational events, and festivals are among them. The park's event calendar is frequently packed with programs for people of all ages and interests. When I was there, a group of artists were performing some mind boggling songs.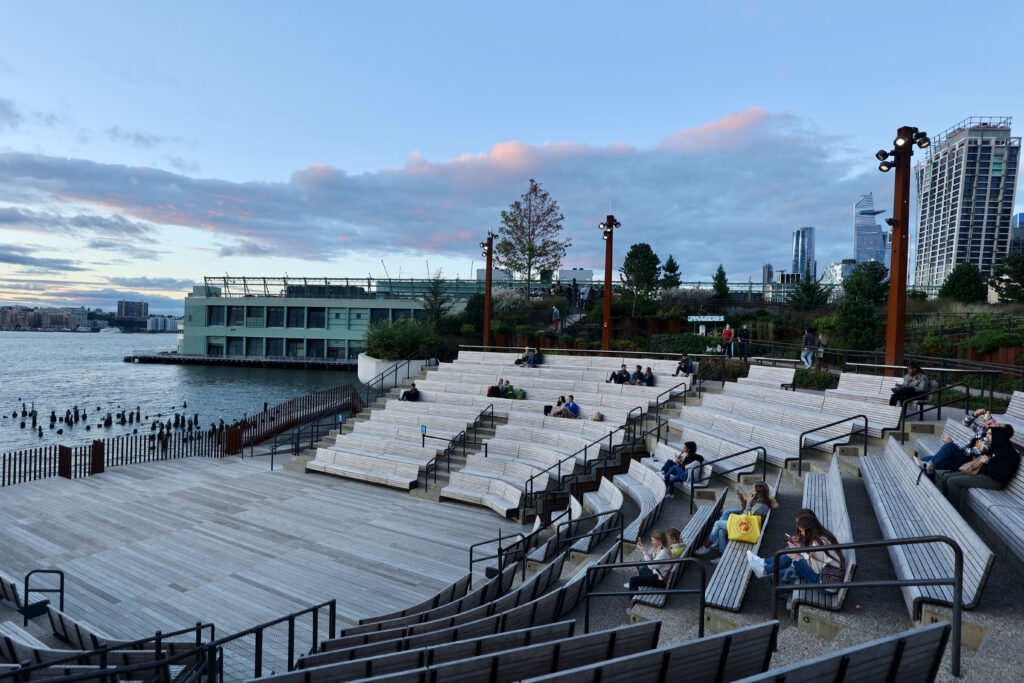 If you have been to Greece, you know what an Amphitheatre should look like. In Hudson river park you will find a cute little Amphitheatre made of woods. You may sit there and stare out over the bay. As the pleasant breeze blows, you might be lured by some music.
The High Line Park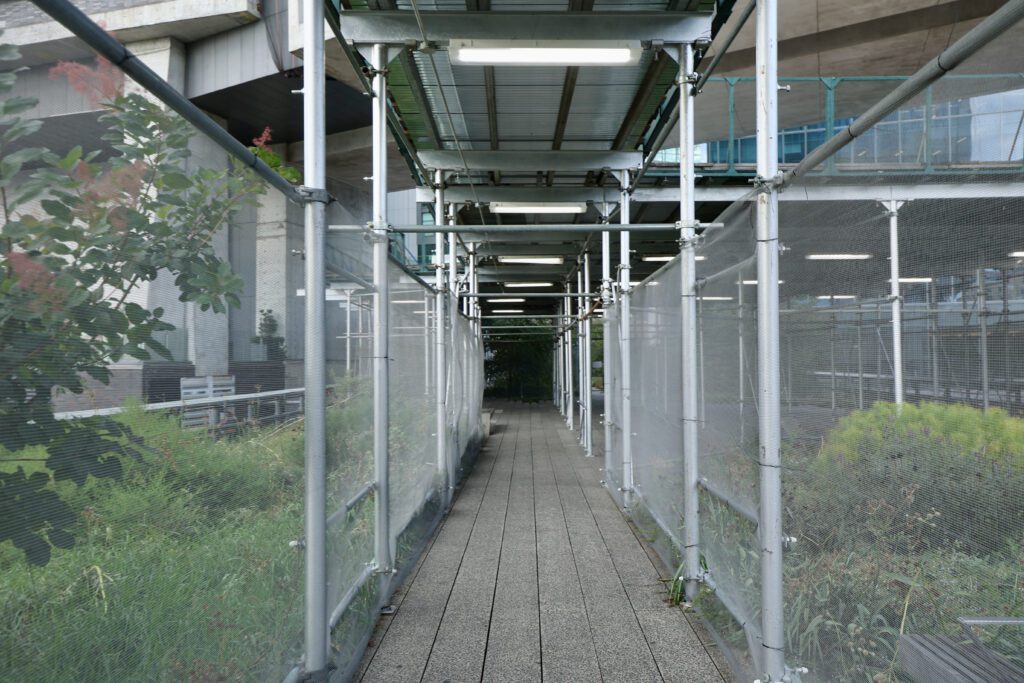 You need to go to the High Line Park for its uniqueness! It's an elevated linear park in Manhattan. It is built on the West Side Line, a historic elevated railway track that was previously utilized for freight trains.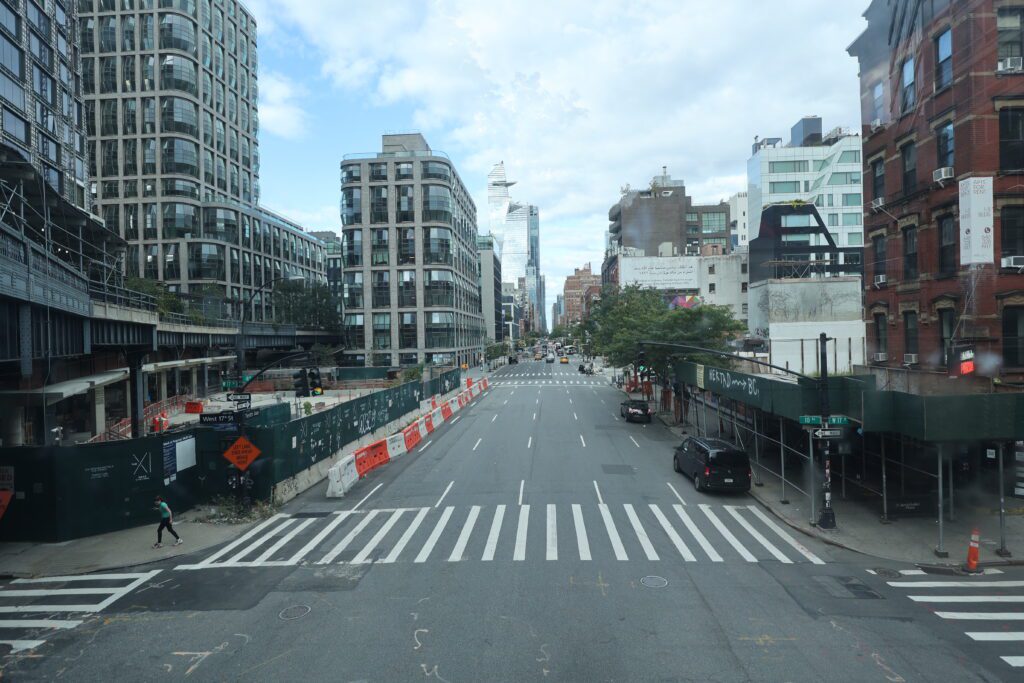 The High Line Park has a 1.45-mile elevated walkway that has been reused. The elevated structure offers a unique and elevated view of the surrounding neighborhood, including views of the cityscape, the Hudson River, and the streets below.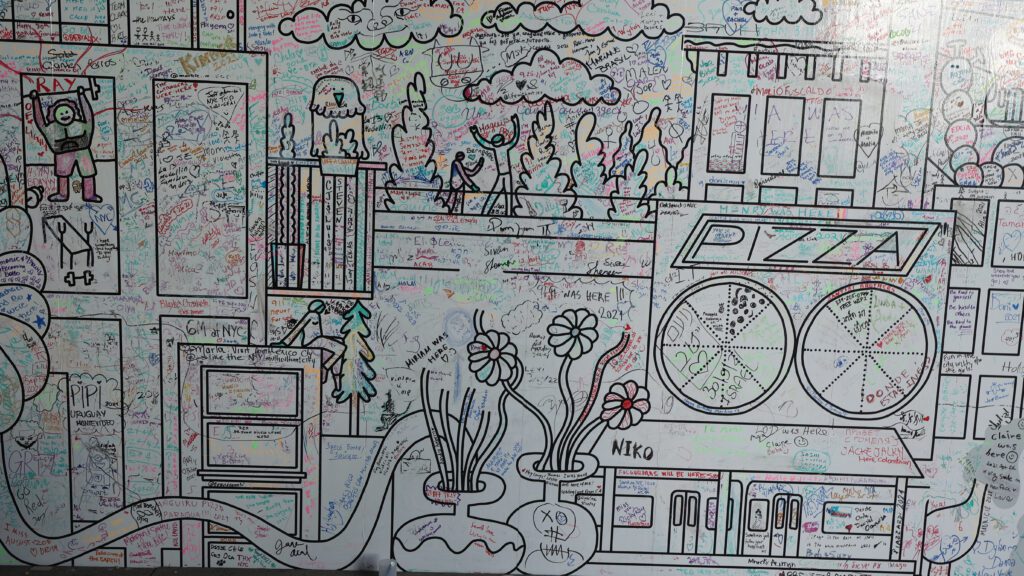 In Highline Park, I discovered a multicolored wall. Anyone can draw or write whatever they like – there were a few of complimentary pens on the floor. It was fascinating to see how many people came here and left their markings on the wall. I couldn't resist but write anything in Bangla, my native language, on that wall, leaving a small imprint of myself in the enormous New York City!
Hudson Yards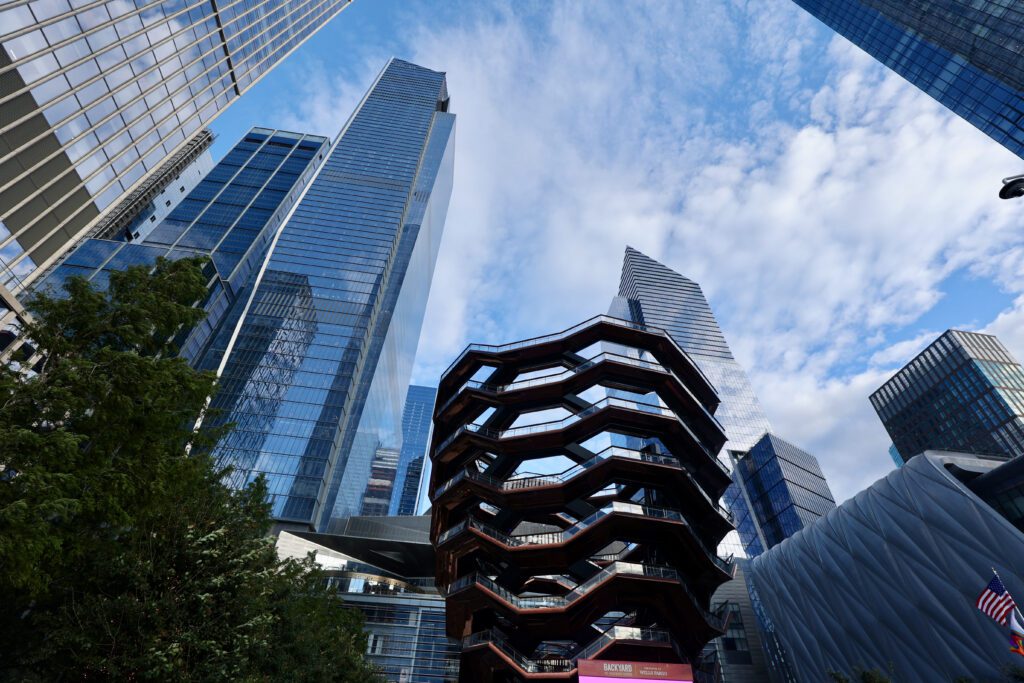 Skyscrapers abound in New York City, as you've probably seen in movies or TV shows. However, if you want to be surrounded by skyscrapers, you must go to Hudson Yards. It is the largest private real estate development (18 million square feet) in US history, consisting of 16 towers, including the highest structure on Manhattan's west side. You can't miss the VESSEL, a honeycomb-like structure made up of interconnecting staircases and platforms, if you go there. Don't forget to ascend its 154 flights of stairs to gain a bird's-eye view of the city. You will find public spaces, parks and greeneries to take rest.
Times Square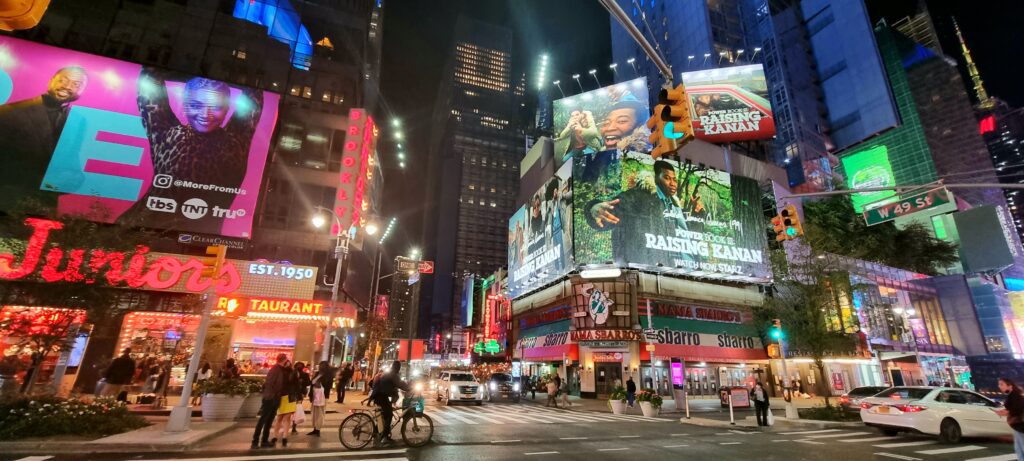 When the sun goes down, make your way to Times Square. If New York is synonymous with the United States, then Time Square is synonymous with New York. Few places in the world are as lively, brilliant, and sparkling as Times Square. It's no surprise that New Year's Eve in New York is celebrated in Times Square. Don't miss it if you are there during new year eve.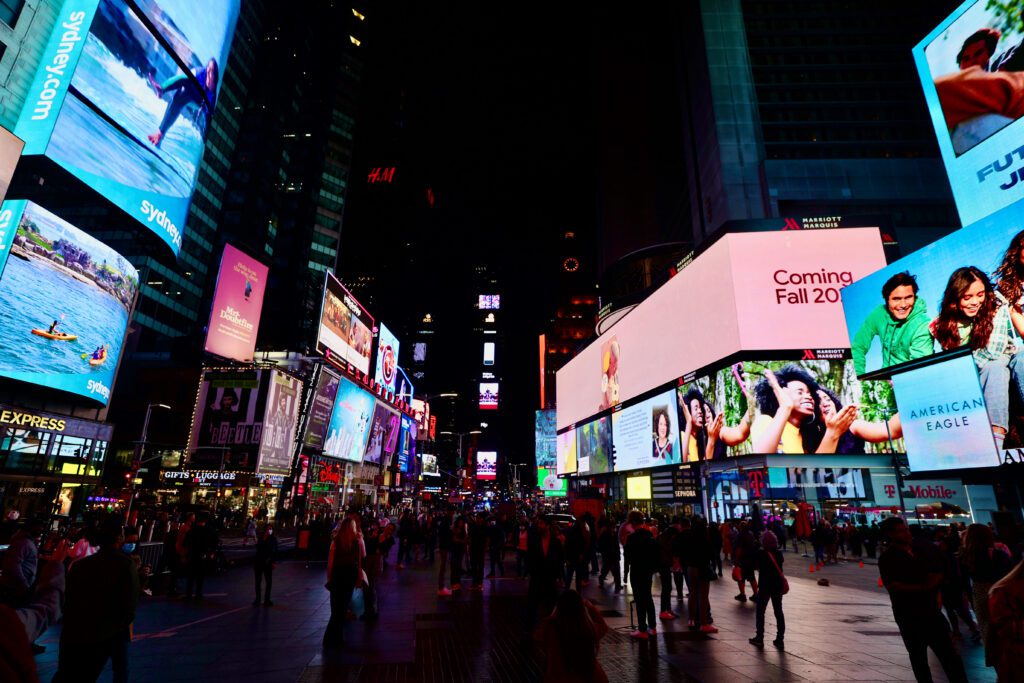 Times Square is well-known for its vivid and brilliant neon light and billboard display. The area is littered with massive electronic billboards advertising various items and activities. Times Square's LED signs and screens create a breathtaking visual experience, making it a popular destination for both locals and tourists.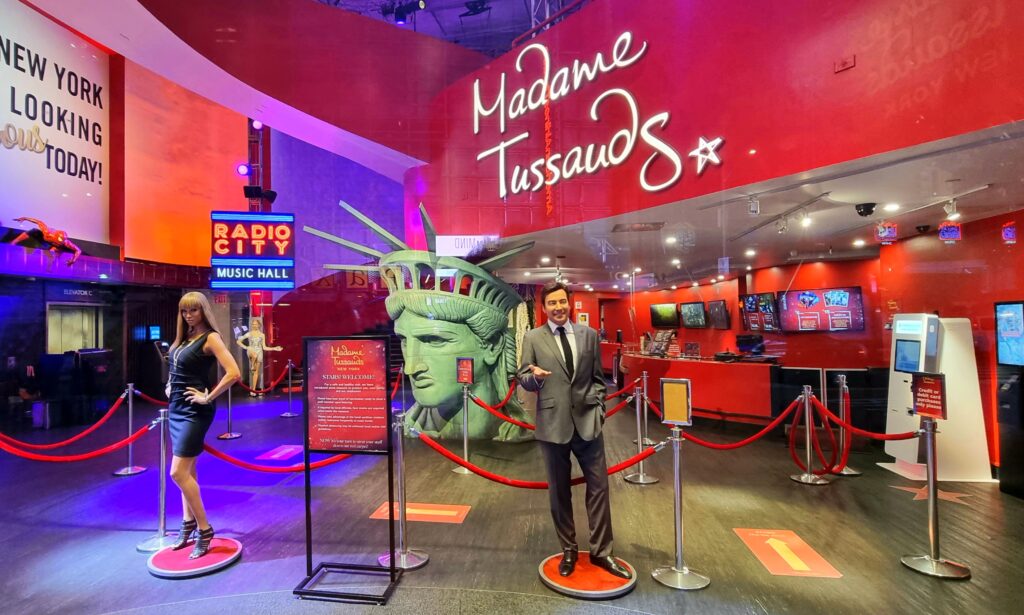 One of the major attractions in Time Square is the Madame Tussauds museum – the greatest wax museum in the world. You will get to see 200 wax figures of different celebrates here.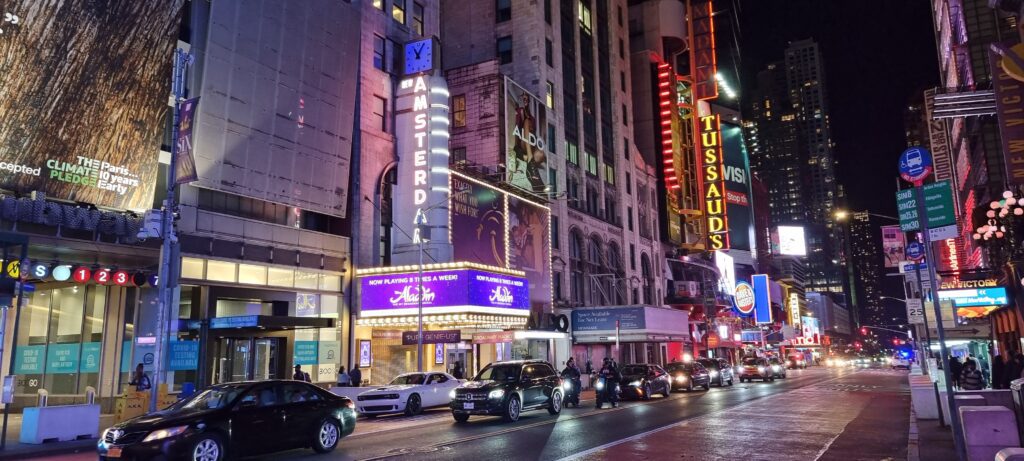 Times Square is at the heart of the Broadway Theater District, which is home to a plethora of theaters that showcase world-class plays, musicals, and performances. For almost a century, the region has been synonymous with live theater and has served as a hub for theatrical events. Many well-known events and performances have debuted at Times Square, contributing to the area's reputation as a cultural and entertainment hotspot.
Map for One Day in New York
Sequence of travel considering convenience should be: SoHo –> Rockefeller Park -> World Trade Center Transportation Hub –> 9/11 Memorial Museum –> XO World Project –> New York Stock Exchange/Wall Street –> The Battery (& the view of Statue of Liberty) –> Brooklyn Bridge Park –> Hudson River Park –> Hudson Yards –> The High Line –> Times Square
Everything you need to know about your New York trip
Can you suggest a guided sightseeing tour in New York in one day?
If you want a day trip in New York with a guide, consider booking this one day excursion in New York
Can I see New York from a helicopter?
Yes, and it's not that expensive. With less than $250, you can book a New York helicopter tour!
Best Hotels in New York